Eddie the School Dog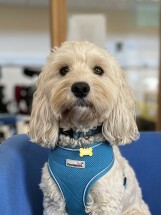 Eddie is Rosewood's school dog, and has been in school every day since the summer term 2021, when he was a tiny puppy.  He knows the sights and sounds of the school well, and has undertaken training in order to ensure that learners are safe when working with him.  Eddie was accredited by Bale's Buddies following a detailed set of assessments of his behaviour within the school environment and in the community. 
Eddie loves all the attention that he gets from staff and learners alike, and is able to work with different learners in different ways.