Visiting Professionals
A wide range of other professionals visit Rosewood School on a regular basis.  They act as specialist advisors within their own specific area of expertise. 
If you would like more information or to contact any of these professionals please visit the Contact page and we will ensure that your message is passed to the relevant person.
The school accesses the relevant Local Authority's Educational Psychology Service on an individual needs basis.  All new Early Years pupils will be seen by an Educational Psychologist as part of the formal assessment process, during which they will also meet with families.
At Rosewood we work collaboratively with professionals from social care, as many of our learners are on Child in Need plans due to their multiple and complex needs.  Social workers come into school to visit children, meet with families and school staff, and to review care packages where appropriate.  We always try to combine meetings wherever possible.
The community paediatrician, Dr Nick Le Prevost, runs clinics at Rosewood School, in conjunction with the dietician, therapy team and nursing team. 
We have regular visits from specialist Advisory Teachers of the Visually and Hearing Impaired who work with our teachers to support Visual and Hearing assessments and to discuss specific activities and provision for our learners.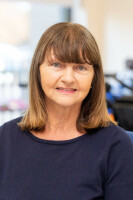 The community dietician, Trish Fenton, visits school regularly to provide advice to families and the school nurses on the children's specific nutritional requirements.  She liaises with the Speech & Language therapist and specialist doctors to hold a feeding clinic in school once a term.
Fortnightly visits are made to Rosewood School by the orthotist, to assess and provide footwear and appliances.  The orthotist works in close partnership with the physiotherapist.